The Best Gym & Workout Fragrances for Everyone!
Posted by DECANT X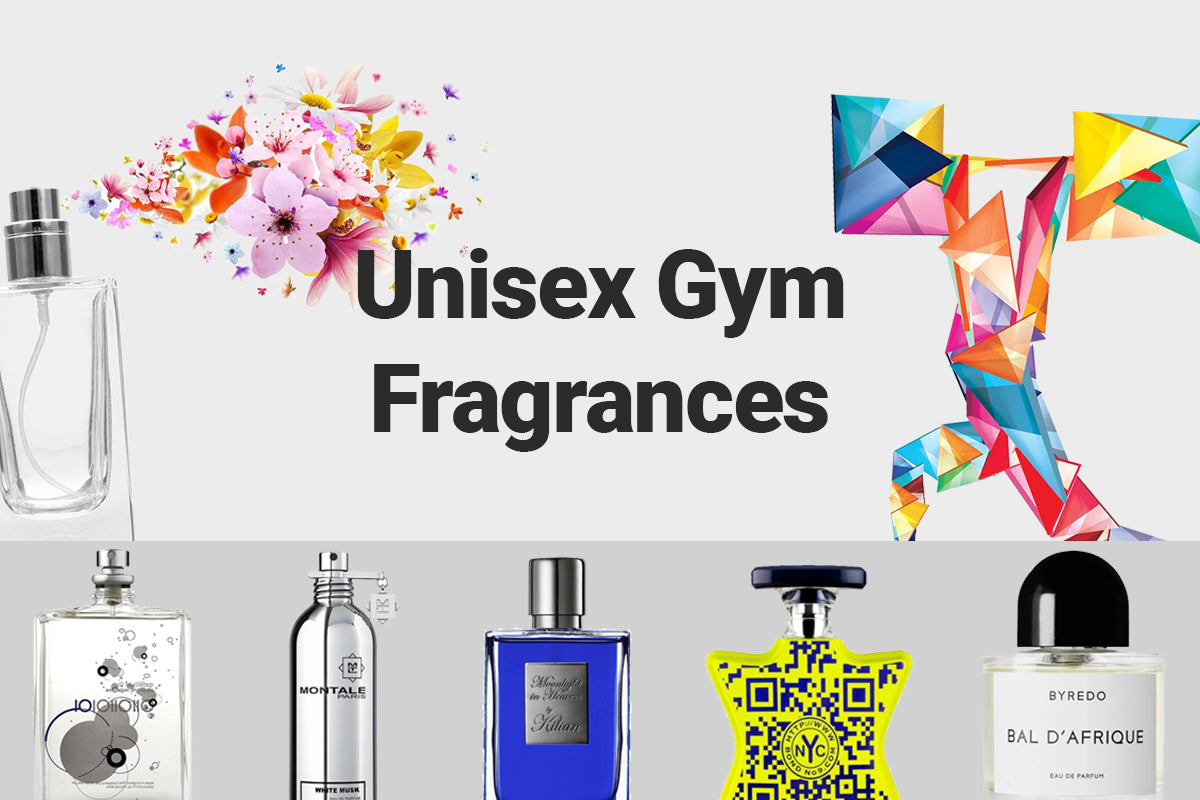 When it comes to selecting a scent for the gym, we always want to remain conscious of those around us while still smelling our best. The gym is all about power, and yet nobody wants to be overpowered by the odors that surround them. Of course, sweating at the gym is a natural occurrence but we certainly don't have to smell like it!

Although there are so many wonderful colognes and perfumes, not all of them are made for the constructs of the gym life. Wearing a scent that is too strong, too dominating or that doesn't quite work with the vibe of the gym changes the whole dynamic. Those who are sharing the workout space with you will appreciate a fresh smell that can help mask the sweaty odors caused by intense training. However, wearing an aroma that does not fit well with this type of intense activity, or that does not perform well mixed with heat and sweat can cause an unpleasant, less appealing air around you.

We put a list together of our lightest, freshest, most neutral fragrances and then we tested them for results. These options are excellent choices for you (and those around you) while you work out and get your gym on!


---
Molecule 01 by Escentric Molecule is a unique fragrance, as it's only note is "Iso E Super". Molecule 01 is special because it's less of a scent and more of an effect. With such extreme subtlety, this fragrance is almost nonexistent, however once it mixes with the individual's skin- it comes alive! Although sometimes undetectable to the person wearing this impartial fragrance, it remains fresh, light, and appealing to everyone around you. Molecule 01 is the least offensive fragrance out there and is a unisex scent which makes it a fantastic choice for everyone!
All Fragrances,
Eau de Toilette,
Escentric Molecules,
Fall Fragrances,
Niche for Unisex,
Niche Fragrance,
Spring Fragrances,
Summer Fragrances,
Top 25 Best Sellers Unisex Niche Fragrances,
Unisex Fragrances,
Winter Fragrances
AVAILABILITY: In stock (519 ProductDrop)
PRODUCT TYPE: Fragrance Decant
Brand: ESCENTRIC MOLECULES
Molecule 01 by Escentric Molecules is a Woody Floral Musk fragrance for women and men. Molecule 01 was launched in 2006. The nose behind this fragrance is Geza Schoen. The fragrance features iso e super.
---
Scent: Floral | Musky | Woody |
White Musk by Montale is a wonderfully crisp, soapy fresh clean scent, almost like fresh laundry! Fueled by the floral notes of Violet and Ylang- Ylang accompanied by a musky base note, together create a neutral unisex blend that is ideal for any gym goer. Like most of Montale's niche scents, this aroma will last long on the skin and has great projection. Soft but present, White Musk has a contemporary powder finish that is rich as well as pleasantly gentle and will ensure everyone around you is enjoying the fragrance!
Top:

Violet

Heart:

Ylang- Ylang

Base:

Musk
All Fragrances,
Eau de Parfum,
Fall Fragrances,
Montale,
Niche for Unisex,
Niche Fragrance,
Spring Fragrances,
Summer Fragrances,
Top 25 Best Sellers Unisex Niche Fragrances,
Unisex Fragrances,
Winter Fragrances
AVAILABILITY: In stock (42 ProductDrop)
PRODUCT TYPE: Fragrance Decant
White Musk by Montale is a floral woody musk fragrance for women and men Blended with the highest quality of rare and luxurious ingredients sourced from around the world. Apply product as desired for long-lasting results. Product DescriptionThe fragrance features violet leaf, ylang-ylang...
---
Scent: Fresh | Citrus | Fruity
Moonlit in Heaven by Kilian is a deliciously creamy tropical dream! With fresh citrus notes and sparkling smoothness, Moonlit in Heaven makes for a very special gym fragrance. The mildly sweet coconut and fruity citrus accords are mixed well to create a comforting, delectable and playful fragrance. Because this scent is light and versatile with moderate projection, it remains inoffensive for shared spaces. It is not a loud scent although it will last long on the skin for closer encounters. This one is hard to resist in any setting, but the gym is a great place to sport it since its highly appealing and will add a little extra to the workout.
Top:

Grapefruit, Lemon, Pink Pepper

Heart:

Coconut, Rice, Mango

Base:

Tonka Bean, Vetiver
AVAILABILITY: In stock (57 ProductDrop)
PRODUCT TYPE: Fragrance Decant
Fragrance Family: FreshScent Type: Fresh Citrus & FruitsKey Notes: Mango, Coconut Milk, RiceFragrance Description: The fresh perfume of tasty mango and the fresh scent of powdered sambac jasmine are mixed with coconut milk and rice all wrapped in tonka bean...
---
Bond No.9.com by Bond. No 9 is our final most "gym" favorable fragrance (for now). Although this fragrance is unisex, it holds a strong, attractive masculine allure that has been compared to the popular Creed Aventus or the less costly version; Club Nuit de L'Homme by Armaf. Bond No.9.com has a fruity, woody aromatic essence that takes over the room in the best of ways without overdoing it, so nobody will mind if you smell this good while sweating next to them. The projection is prominent and mixes very well with high energy activities in close environments. You can't go wrong with the fragrance profile for almost any occasion, so if your trying to win friends at the gym, this is the way to go!
Top:

Bergamot, Pineapple, Juniper Berries

Heart:

Apple, Black Currant, Cedar

Base:

Patchouli, Moss, Amber, Musk
AVAILABILITY: In stock (34 ProductDrop)
PRODUCT TYPE: Fragrance Decant
BondNo9.com by Bond No 9 is a Woody Aromatic fragrance for women and men. BondNo9.com was launched in 2013. Top notes are bergamot, pineapple and juniper berries; middle notes are apple, black currant and cedar; base notes are patchouli, moss,...
---
Scent: Citrus | Floral | Woody
Bal d'Afrique by Byredo is one of those fantasy scents that remind us of a time, place, moment, or friend. Fragrant fruity-floral notes produce a unique tropical blend; so dynamic that it somehow manages to be light, warm, refreshing, and almost creamy all at once. A true masterpiece, Bal d'Afrique is a classy gym pick that also makes for a charming everyday scent as is it easily transposed into a more social, more elegant setting. Wearing this blend at the gym will ensure you smell as vibrant as you feel!
Top:

African Marigold, Bucchu

Heart:

Violet, jasmine petals, cyclamen

Base:

Black amber, musk, vetiver, Moroccan cedarwood
AVAILABILITY: In stock (65 ProductDrop)
PRODUCT TYPE: Fragrance Decant
A mix of Parisian avantgardism and African culture shaped a unique and vibrant expression. The intense life, the excess and euphoria is illustrated by Bal d'Afrique's neroli, African marigold and Moroccan cedarwood. Style: Floral.Notes:- Top: bergamot, lemon, neroli, African marigold, bucchu.-...
---
Original Vetiver by Creed is the epitome of the soapy, fresh barbershop clean with a sophisticated modern crispness. Reinventing the traditional vetiver scent with a little extra vivaciousness by using all the Vetiver plant combined with warm, powdery notes that create an invigorating earthy rich aroma. Original Vetiver is a pricier gym option, but it does double as a work fragrance or everyday choice as well! This fragrance is unpretentious and will not overwhelm the room, however it will leave an exhilarating atmosphere around you and keep you smelling like you just walked out of the shower!
Top:

Bergamot, Bitter Orange, Mandarin, Vetiver Leaf

Heart:

White Pepper, Coriander, Pink berries

Base:

Sandalwood, Vetiver, Ambergris, Musk
AVAILABILITY: In stock (94 ProductDrop)
PRODUCT TYPE: Fragrance Decant
Collection 2019
Sale 70% Off
Title for image