The Best Wedding Perfumes & Colognes for the Bride and Groom!
Posted by DECANT X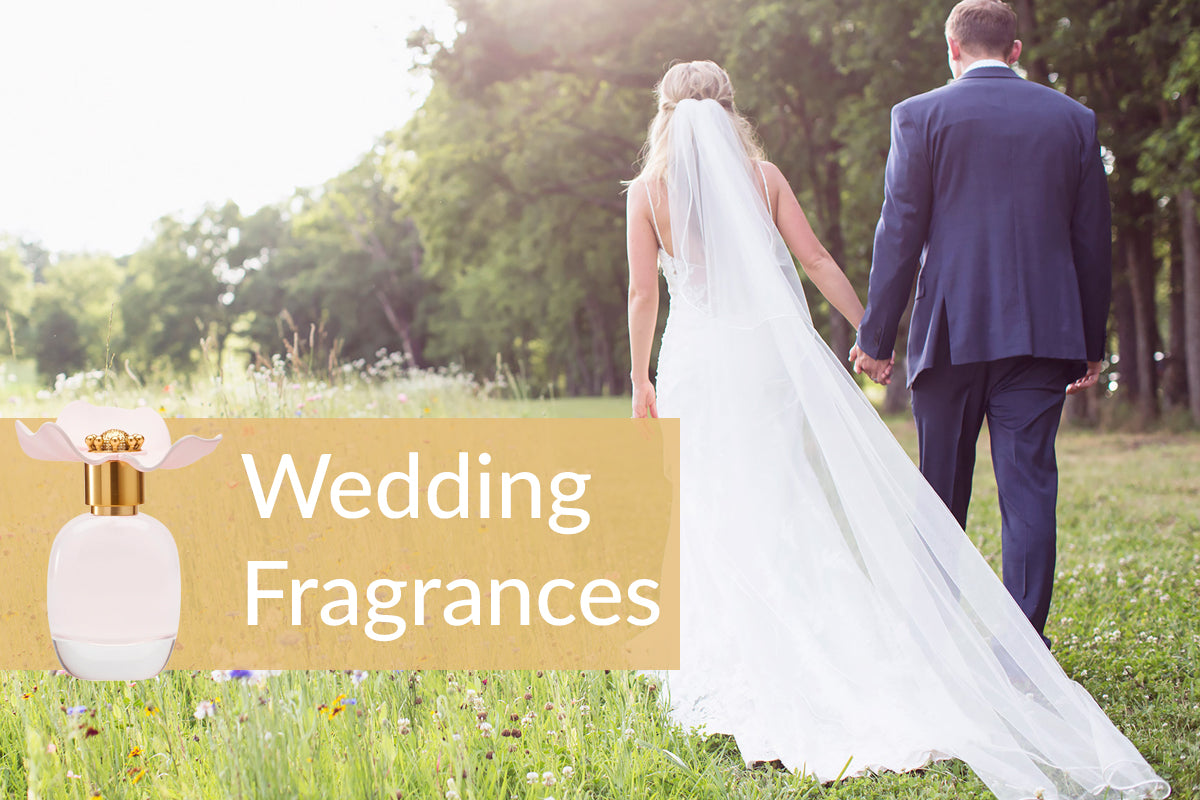 Finding "The One" – The Best perfumes and colognes for a Bride & Groom on their most special day!
Since you've been busy finding true love and planning the big day; we figured you could use some ideas for some special wedding-worthy fragrances!

Choosing your mate was easy, choosing a fragrance is a whole other challenge. We put together a few of our favorite scents that would make any bride or groom smell their absolute finest while they laugh, love, and dance the night away!

There is no right or wrong when it comes to picking the perfect scent for your wedding day; of course, it should be something that fits your personality and that you absolutely love! After all, this scent will become part of the day, part of the memory and part of the magic.
---
---
When it comes to high quality, niche fragrances Creed never fails to impress. Love in White is floral-fresh savory scent created in honor of peace, unity, and freedom. A perfectly dreamy blend for the day of your dreams, this perfume is a true serene beauty fit for a glowing summer bride.
Top:

Orange zest

Heart:

Florentine iris, French daffodils, magnolia, Bulgarian rose, Tonkin rice

Base:

Vanilla, ambergris, Mysore sandalwood
AVAILABILITY: In stock (139 ProductDrop)
PRODUCT TYPE: Fragrance Decant
What it is: An ode to Creed's sophisticated craftsmanship and passion for the world's finest ingredients, Love In White combines hand-selected essences from five continents, a fragrant statement of global unity and peace. Fragrance story: The scent is pure freedom—a...
---
Scent: Floral
Inspired by the famous portrait of Marie Antoinette "A La Rose"- this ultra-feminine, deeply floral fragrance combines over two hundred freshly bloomed Bulgarian and Turkish roses to create a uniquely rich & fragrant experience. À La Rose by Maison Francis Kurkdjian is a both refreshing and velvety, extravagant, and encompassing like a bouquet of handpicked roses- a true declaration of love in the form of a fragrance.
Top:

Bergamot, Orange

Heart:

Bulgarian rose, Grasse rose, violet, Magnolia blossom

Base:

Musk, Cedarwood
AVAILABILITY: In stock (436 ProductDrop)
PRODUCT TYPE: Fragrance Decant
Brand: Maison Francis Kurkdjian
À la rose is a declaration of love for all women captured in a fragrance. Queen of flowers, the rose knows no boundaries and has inspired those in the creative arts for centuries. Poets, painters, musicians... and perfumers alike. All...
---
Scent: Oriental | Fresh | Gourmand
As a tribute to the modern woman, perfume creator Thierry Wasser produced a fragrance that embodies all that is contemporary femininity: strong and sensual. This warm, sweet & spicy perfume is hard to resist and will charm even the toughest critics. Jacques Guerlain once said: "We create perfumes for the women we admire", and what better day to be admired on- than your wedding day!?
Top:

Bergamot, Mandarin, Pear

Heart:

Neroli, Sambac, Jasmine, Lavender

Base:

Iris, Vanilla, Sandalwood
AVAILABILITY: In stock (190 ProductDrop)
PRODUCT TYPE: Fragrance Decant
This fresh, exotic fragrance is for the woman who's ready to take on the world, with an adventurous spirit that's endlessly fascinating. This exciting scent is made with sublime ingredients from all over the world: carla lavender from Provence, sambac...
---
Scent: Warm Spicy | Gourmand
"Nuit Blanche" is French for "White Night" and refers to an electric evening that takes place in Paris once a year. A night that promises thrilling and unique experiences, a night where anything is possible, a night that never ends! This fragrance is a smooth, seductive combination of enchanting warm notes that burst with electrifying vibrance; a scent that is sure to keep you energized for celebrating all night long!
Top:

Pepper, Rice, Anise

Heart:

Orange Blossom, Peony, White Coffee

Base:

Vanilla, Caramel, Sandalwood, White Musk, Almond Milk
AVAILABILITY: In stock (196 ProductDrop)
PRODUCT TYPE: Fragrance Decant
Brand: Yves Saint Laurent
Live the night with Black Opium Nuit Blanche, an electrifying new interpretation of the iconic Black Opium coffee signature. The seductive white coffee floral fragrance is designed to give the wearer a burst of energy to last through the night....
---
In true Parfums de Marly form, Cassili is a complex, delicately refined niche fragrance with delectable fruity-floral notes. This chic, modern classic exudes desire like the juicy fragrant bouquet of sweet freshness that it is! A fun, sexy perfume filled with sophisticated, compelling blends of creamy gourmand richness and invigorating vivacity. Celebrate your big day with a spellbinding scent for truly mesmerizing memories.
Top:

Red Currant, Bulgarian Rose, White Flowers

Heart:

Plum Accord, Mimosa Absolute, Plumeria

Base:

Sandalwood, Tonka Beans, Vanilla Pod
AVAILABILITY: In stock (142 ProductDrop)
PRODUCT TYPE: Fragrance Decant
At the intersection of desire and delicacy, Cassili is a fruity-floral beauty that reminds us that Parfums de Marly does feminine scents with every bit as much modern-meets-classic complexity as their much-heralded masculines. Exploding with triumphant fruitiness, yet anchored by...
---
---
Scent: Leather | Warm Spicy | Woody
Jazz Club is a smooth, warm-spicy fragrance that captures the essence of an evening spent in a romantic jazz club; filled with chic guests being served heady cocktails. Not unlike an elegant, black-tie fall or winter wedding! This unique charmer is impossible to resist, so much so, that your wife might also wear it!
Top:

Pink Pepper, Lemon, Neroli

Heart:

Clary Sage, Rum, Java Vetiver Oil

Base:

Styrax Resin, Tobacco Leaf, Vanilla Bean
AVAILABILITY: In stock (107 ProductDrop)
PRODUCT TYPE: Fragrance Decant
Jazz Club is a woody and spicy fragrance that reminisces of an anthology of classic cocktails and coppery tones through balmy, rich notes of rum absolute blended with an underscore of tobacco leaf absolute.The tradition has been immortalized through the...
---
Scent: Fruity | Citrus | Fresh | Green
In the words of perfume creator Roja Dove; "Only the heroic and virtuous are destined to achieve the life they desire, so each ingredient within this scent was chosen to emulate this rare strength of character". Elysium Pour Homme is a rare breed, one created for the modern man of valor. Make your dreams a reality on your special day with this incredibly lavish blend of fine ingredients blended to make up an ultra-fresh, super sensual- completely fascinating fragrance.
Top:

Lemon, Bergamot, Grapefruit, Lime, Lavender, Thyme, Artemisia, Musk

Heart:

Lily Of The Valley, Rose, Jasmine, Apple, Blackcurrant

Base:

Galbanum, Pink Pepper, Cypriol, Vetiver, Cedarwood, Juniper Berry, Benzoin, Vanilla, Labdanum, Leather, Ambergris, Musk
AVAILABILITY: In stock (109 ProductDrop)
PRODUCT TYPE: Fragrance Decant
Fresh & DrySweet, Fruity, Warm & Sensual"Heroic. Virtuous" "Elysium?few have the ability to make that dream a reality. Only the heroic and virtuous are destined to achieve the life they desire, so each ingredient within this scent was chosen to...
---
Fit for a king like yourself, Royal Mayfair by The House of Creed is highly converted accord made to impress all the wedding guests. Initially created for the Duke of Windsor- this scent is the essence of royalty, high fashion and daring choices. A wonderfully fresh aroma with hints of fruit and florals; a dashing choice for any time of year!
Top:

Gin, Lime, Pine Tree

Heart:

Rose

Base:

Orange, Cedar, Eucalyptus
AVAILABILITY: In stock (262 ProductDrop)
PRODUCT TYPE: Fragrance Decant
Royal Mayfair Cologne by Creed, Introduced in 2015, Royal Mayfair is a fruity, floral fragrance that was created for men and women . Named after the posh, London neighborhood of Mayfair, this gourmand scent is a fresh and imaginative experience....
---
Scent: Citrus | Floral | Fresh Spicy
Xerjoff is a niche fragrance brand that uses only the best of the best to create their magical aromas. Originally fashioned for the traditional Italian barber's shops in 1888; Mefisto Gentiluomo is the ultimate gentleman's cologne. Composed of fresh citrus, sweet-smelling florals and a deep base that make up a brilliant aromatic creation built for celebrating excellence in the warmer months. A classic scent for a classic, sharp, polished groom on the big day!
Top:

Bergamot, Lavender, Lemon, Grapefruit

Heart:

Irish, Rose, Violet

Base:

Amber, Cedarwood, Musk
AVAILABILITY: In stock (66 ProductDrop)
PRODUCT TYPE: Fragrance Decant
Mefisto Gentiluomo is, as the name suggests, a gentleman's cologne, composed in the style of the eaux de cologne used in upscale barbershop joints in Italy circa 1888. Like its progenitor, Mefisto, Gentiluomo takes what seems to have become a...
---
Scent: Oriental | Warm Spicy
Code Profumo is an iconic scent by Armani; magnetic, seductive, incandescent. This scent encompasses masculine intensity with glowing excitement and an addictive richness. With opulent accords and explosive sensuality, this mysterious fragrance makes a sexy, enthralling choice that will have your bride all over you way before you even say "I do"!
Top:

Green Mandarin, Green Apple, Cardamom

Heart:

Orange Blossom, Lavender, Nutmeg

Base:

Tonka Bean, Amber, Leather
AVAILABILITY: In stock (112 ProductDrop)
PRODUCT TYPE: Fragrance Decant
The iconic sent of seduction now reaches a new level of incandescence. The Code man possesses the magnetic power of seduction and creates sensational effects for all he meets. Armani Code gives you the key to the Armani universe—a world...
---
Collection 2019
Sale 70% Off
Title for image