Perfect Valentines Day Fragrances For This Years Valentine's Day!
Posted by DECANT X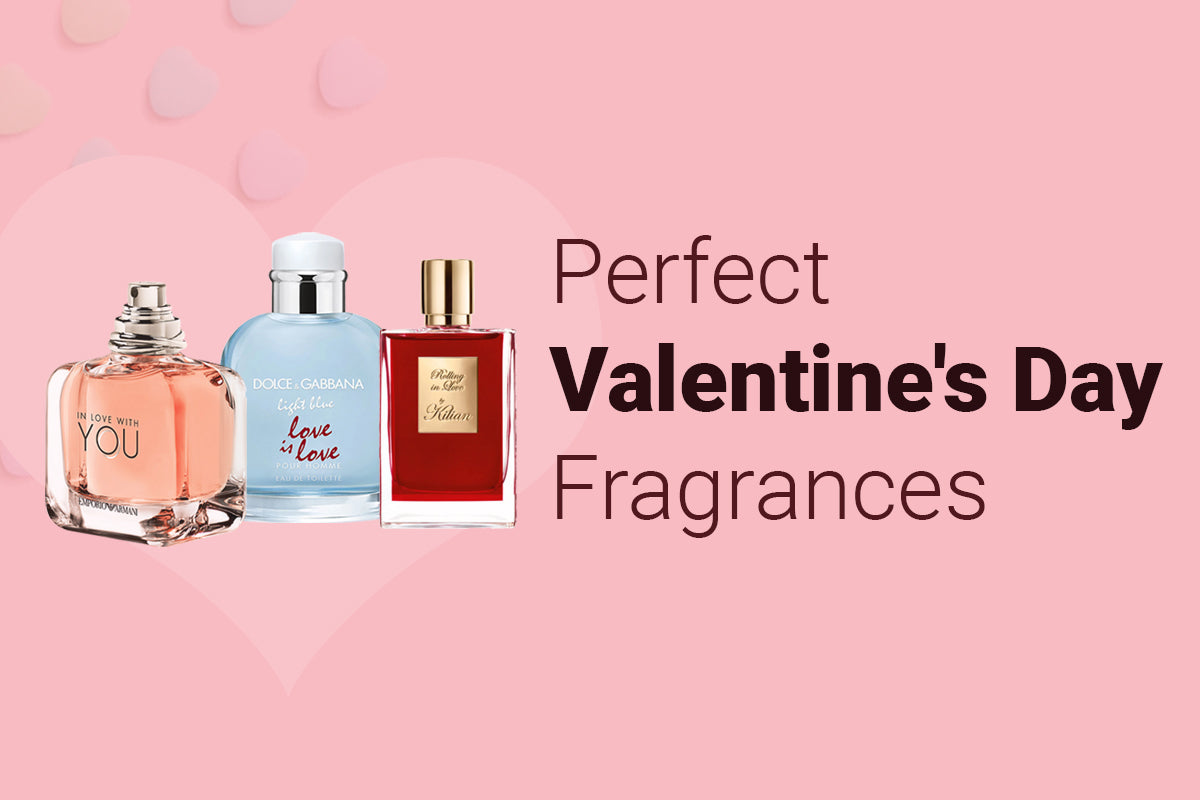 We love a good reason to celebrate, and what's a better reason than Love?! You certainly don't need to be in a relationship to enjoy or celebrate Valentine's Day, especially with us! Whether you're curling up with a loved one or a good book, it never hurts to splash yourself with something special to smell your best. These romantic aromas are all about love, so how ever you plan on Valentine's Day looking this year, we're here to ensure your feeling fabulous, smelling your finest and feeling all the love!
Check out our dreamy Valentine's Day fragrances that are perfect for all your V-Day plans!
---
---
Scent: Sweet, White Floral, Vanilla, Caramel, Citrus, Powdery, Musky, Animalic
"Love Don't Be Shy" By Kilian is a floral gourmand fragrance that smells like a creamy warm delicious dessert. We can't get over how yummy this scent is which makes much more sense when we realized that the key notes are neroli, orange blossom and marshmallow. Who wouldn't love a well-rounded marshmallow scent?! This fragrance is beyond fitting for this years Valentines day!
Top:

Neroli, Pink Pepper, Bergamot, Coriander

Heart:

Orange Blossom, Jasmine, Honeysuckle, Rose, iris

Base:

Caramel, Vanilla, Sugar, Musk, Civet, Labdanum
---
Scent: Violet, Powdery, Floral, Woody, Iris, Fruity, Fresh, Musky, Warm Spicy, Rose
If a scent had a color, this one would be purple all over. With a blend of violet, iris, and black currant infused perfection, "Love in Black" by the house of Creed is delicate, intricate, soft and ultra-feminine. Possessing an understated powdery elegance with beautifully polished floral notes, this aroma is both sensual and refined created for all you true romantics out there!
Top:

Italian Violet, Virginia Cedar, Wildflowers

Heart:

iris, Musk, Cloves

Base:

Black Currant, Bulgarian Rose
---
Scent: Woody, Citrus, Patchouli, Fresh, Floral, Cherry, Sweet, White Floral, Earthy, Fruity
We're pretty in love with "In Love With You Freeze" by Armani; it's a wonderfully fresh aroma that captures the feeling of ultimate joy, romance and excitement. Oriental floral accords of cherry, peony and white musk creates a profoundly alluring, gentle and charming scent. We can't freeze those special real-life moments, but we can sure try with this beauty!
Top:

Cherry, Mandarin Orange, Bergamot, Pear

Heart:

Peony, Jasmine Sambac, Lily-of-the-Valley

Base:

Patchouli, White Musk, Woody Notes, Vetiver
---
Scent: Fruity, Sweet, Amber, Rose, Violet, Warm Spicy, Floral, Fresh, Coffee, Woody
The Only One 2 is the Oriental vanilla induced second chapter to the original love story by Dolce & Gabbana; "The Only One". Reintroducing the signature coffee- violet combination with some new additions: red rose & red berries for a full-bodied rich red aura of warmth, love and seduction. This lovely fragrance is all about powdery, smooth, sweet accords that make up a very addictive tale of aroma.
Top:

Blackberry, Red Berries, Pear, Freesia

Heart:

Red Rose, Coffee, Violet

Base:

Tonka Bean, Patchouli, Ambergris, Amberwood
---
Scent: White Floral, Citrus, Honey, Sweet, Lavender, Aromatic, Animalic
We're welcoming the new Gucci Guilty Love Edition MMXXII by Gucci because it fits so well, we simply couldn't resist ourselves. This fragrance represents unapologetic passion and reminds us to embrace our free expression by changing the standards of societies defined rules for love. Celebrating eccentric lovers with soft spiced amber-floral accords mixed with citrusy flavored mandora, bergamot, pink pepper, and lilac for a dreamy new scent that has arrived just in time for Valentine's Day!
Top:

Italian Lemon, Pink Pepper

Heart:

Orange Blossom, Honey, Lavender, Neroli

Base:

Patchouli, Cedar
---
---
Scent: Citrus, Vanilla, Sweet, Fresh Spicy, Fruity, Fresh, Aromatic, Woody, Musky, Powdery
Let's be honest, everyone likes the well-known classic Light Blue by Dolce & Gabbana, but you may just fall in love this newer version Light Blue Love in Love Pour Homme! Fresh citrus fruit flavored crispness that bursts with aromatic pink pepper, rosemary, and a creamy gelato smoothness. It's quite the display of vibrant contrasts and we feel it's a fantastically fun and sensual scent for a refreshing kind of love!
Top:

Granny Smith apple, Bergamot, Mandarin Orange, Grapefruit

Heart:

Ice cream, Apple, Rosemary, Pink Pepper

Base:

Vanilla, Amberwood, Musk
---
Scent: Woody, Warm Spicy, Citrus, Aromatic, Fresh Spicy, Fresh
Nothing says romance quite like Tiffany's, so naturally we've added Tiffany & Love For Him by Tiffany & Co to this Valentine's day fragrance compilation. Using the colorful woody essence of blue sequoia with vibrant citrus & ginger spiced notes that create a portrait of modern love and deep unifying connections that bring us closer together in a contemporary world. This scent is full of effortless energy that makes for an easy to wear everyday fragrance, although we think it's fantastic for Valentine's day too!
Top:

Mandarin Orange, Ginger, Cardamom

Heart:

Cypress, Juniper

Base:

Vetiver, Sandalwood, Sequoia
---
Scent: Vanilla, Sweet, Amber, Cinnamon, Warm Spicy, Aromatic, Powdery, Caramel, Soft Spicy, Musky
Stronger With You Intensely is a newer fragrance composed by Armani and speaks to the spirit of intensely irresistible love and unbreakable bonds. Warm spiced amber tones combined with gentle vanilla and woodsy accords join in this enchanting balmy scent to evoke profound ties and long-lasting devotion. Stay cozy and close to the one you adore this Valentines day with this sweet, candied gourmand blend.
Top:

Juniper, Pink Pepper, Violet

Heart:

Toffee, Cinnamon, Lavender, Sage

Base:

Tonka Bean, Amber, Suede
---
Scent: Floral, Citrus, Violet, Fresh, Fresh Spicy, Sweet, Powdery, Aromatic, Green, Woody
This new mixture by Gucci is a modern, highly masculine aromatic-fougère fragrance. The story of Guilty Love Edition MMXXI pour Homme begins with a lemony fresh opening and soft white florals. Followed closely by mellow honey accords with enriching French lavender and orange blossom which come together brilliantly for a stylish contemporary scent for all the amorous men looking for an impressive new aroma for the day of love!
Top:

Mandora, Bergamot, Pink Pepper

Heart:

Lilac, Violet, Geranium

Base:

Patchouli, Amber
---
Scent: Woody, Musky, Amber, Aromatic, Earthy, Powdery, Green, Warm Spicy, Mossy, Balsamic
A niche creation inspired by and designed for the man who relies entirely on his natural pheromones. French Lover by Frederic Malle is made for the man who normally avoids the idea of cologne, preferring his own organic scent. There is a silence to this magnetic fragrance, something profoundly raw, masculine, and very attractive. Fresh spiced pimiento cherry pepper with a wooded floral and enigmatic incense that suggests the entrance to an enchanting forest of sensuality.
Top:

Galbanum, Spices

Heart:

Angelica, Cedar, Incense

Base:

Vetiver, Oakmoss, White Musk
---
---
Scent: Powdery, Woody, Floral, Amber, Vanilla, Yellow Floral, Warm Spicy, Sweet, Almond, Balsamic
Referred to as a narcotic bomb by Initio Parfums, Psychedelic Love is an incredibly addictive unisex fragrance. This sparkling elixir is tender but somehow feels as though it should be forbidden in the garden of Eden. Creamy vanilla-almond notes with aromatic florals bring together powdery sensuality that is made to draw you in an keep you under its spell. This formula may cause a drug – like (but healthy) obsession to the wearer, expect people to be drawn to you like a moth to a flame.
Top:

Ylang-Ylang, Bergamot

Heart:

Heliotrope, Hedione, Bulgarian Rose

Base:

Myrrh, Sandalwood
---
Scent: Floral, Vanilla, Almond, Powdery, Musky, Tuberose, Iris, Sweet, White Floral, Nutty
Rolling In Love By Kilian was formulated to capture the sensation of feeling so high on love that it quite literally takes over you with the power to get right under your skin. This is a highly textured milky & silky fragrance; it has an all around encompassing intimate cocoon like warmth. Wrapping you and your loved one in sensual musky layers of almond milk, iris and ambrette seeds. This intoxicating unisex tincture is made to have you up close, connected and enjoyed.
Top:

Almond Milk, Ambrette (Musk Mallow)

Heart:

iris, Freesia

Base:

Tuberose, Vanilla, Tonka Bean, Musk
---
Scent: Citrus, Aromatic, Leather
When we say "Moon Fever" we think of a romantic adventure; a midnight escape under the starry sky lit up by a full moon. Memo Paris has created the intrinsic Moon Fever with fantasists and moon chasers in mind, and we think that's pretty dreamy and romantic. This aroma has a weightlessness to it with the lightest, softest combinations of orange, lemon, vetiver, tonka bean and leather. Be wild, be free, be effortlessly in love with this fragrant magical charmer.
Top:

Bitter Orange, Lemon, Grapefruit

Heart:

Lemon Verbena, Clary Sage, Neroli

Base:

Tonka Bean, Leather, Vetiver
---
Scent: Amber, Woody, Balsamic, Vanilla, Sweet, Warm Spicy, Powdery, Patchouli, Violet
Byredo has bottled the exhilarating time between boy and girl when they share a moment of innocence meeting experience, awkwardness finding comfort, and the beginning of change and movement. Slow Dance is something we can all relate to; the intoxicating mixture of masculine and feminine energy transferred between one another. Both bitter and sweet this rich potion intends on blending into the skin with ease and scents the air with warmth and elegance. Experience the epitome of innocent love with a slow dance this Valentine's day!
Top:

Opoponax, Cognac

Heart:

Labdanum, Violet, Geranium

Base:

Vanilla, Patchouli, Incense
Collection 2019
Sale 70% Off
Title for image