Spring 2022 Top Fragrances For Men & Women
Posted by DECANT X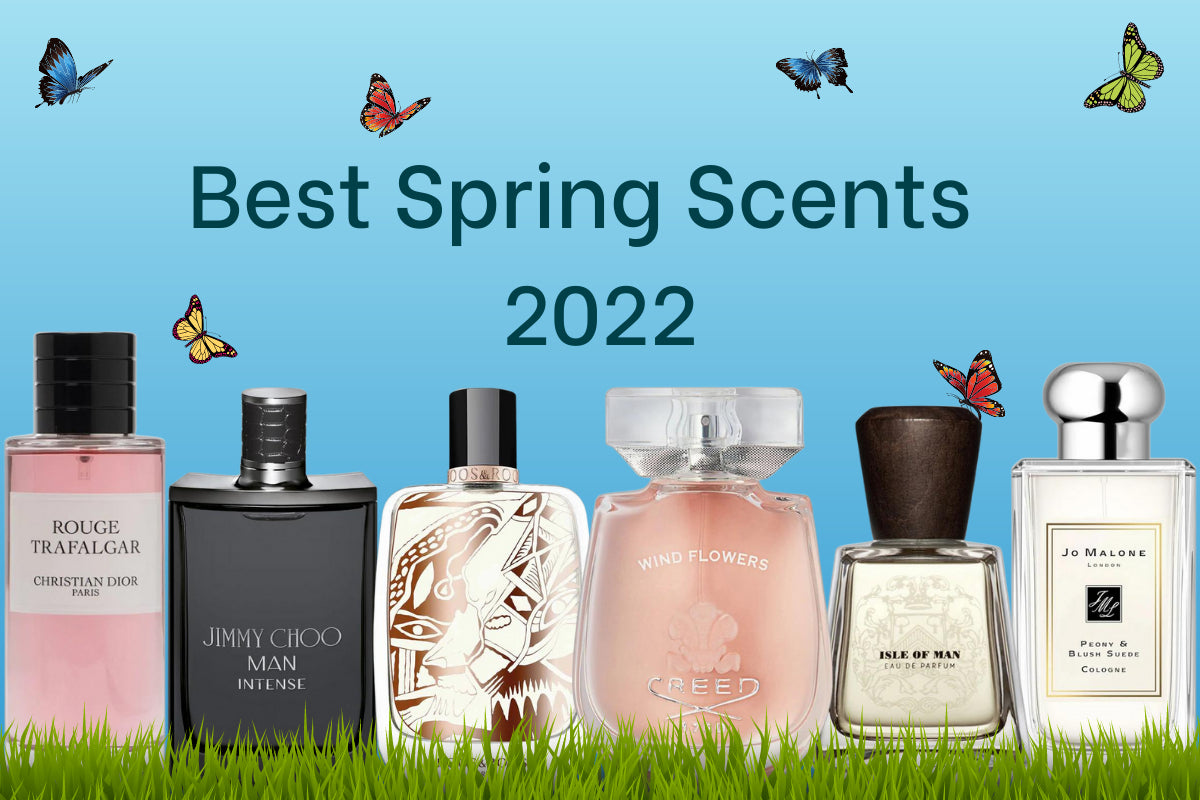 Although change can be a little scary, we think welcoming Spring is the perfect excuse to re-vamp our fragrance style!
The feeling of warm sunshine & crispy breezes with the smell of blossoming florals, fruit filled air and the fresh dewy rain on grass scents are just a few of our favorite reasons to celebrate Spring. Put your winter warms and ouds to the side and make some room for new blends that will make the Springtime switch not to scary. We've curated a list of some fresh and wonderfully revitalizing scents for this season. Time to find your newest Springtime favorite!
---
Rouge Trafalgar is a fun, happy and carefree fragrance that brings out a joyful lively burst of red berries, mandarin, black current and rounds off with woody musky notes. This scent is a lively, hypnotic tangy spiced scent blended beautifully for a changing season.
---
Wind Flowers is a sparkling, sensual floral fragrance luminating with soft and zesty, delicately powerful notes. Jasmine, tuberose, orange blossom and sandalwood create creamy, brilliant accords exuding grace and charm.
Accords: Floral, Sweet, White Floral
---
Si Fiori is an effortlessly incandescent sweet floral scent. Opening with a bright mandarin, blackcurrant nectar and smoothed over by a warm vanilla, orange blossom combination creating a luscious juicy fragrance.
Accords: Floral, White Floral, Fruity
---
The ever-so-adored Nymphessence is traditionally untraditional beauty, wild in nature with playful femineity. The purity and pulpiness of jasmine absolute with succulent strawberry create a delicious juice while amber and woody notes bring out a mesmerizing, refined elegance.
---
Peony & Blush Suede is a charmingly flirtatious, lush yet subtle scent with green juicy opulent notes. Crispy apple, sweet rose, peony & honey with the supple suede texture mingle together to embrace a seductive and luxurious perfume.
---
Twilly D'hermes Eau Poivree is a tender, daring and vibrantly peppery perfume. Elegant rose and patchouli notes with spicy pink peppercorn create a youthful, spirited and ever so enchanting fresh Spring scent.
---
Red Iceberg is bold, fierce, and extravagant, a master of show and style. This scent is a passionate invigorating blend of seductive citruses mixed with florals that brighten any room. The base is a deep amber and patchouli combo, bringing this scent to new level of chic.
---
Isle Of Man is a citrusy salt infused oceanic masterpiece. It's a bold and brilliantly balanced take on the aquatic element found in many refreshing fragrances. Far from boring, this unique interpretation is encompassed by blooming florals that make up a masculine coastline crisp.
---
Le Gemme Yasep is a distinctive, daring and deep fragrance. Celebrating the rich red Madagascar gemstone that is said to possess the energy of the Roman god Mars; this intriguing parfum combines woody and oriental notes to invigorate and inspire sensuality.
---
Le Male On Bored is a fun, fresh, easy breezy youthful yet masculine scent. Deep blue with a playful and seductive energy fused by woodsy, cool citrus and a sweet tonka bring forth a deliciously aromatic Spring vibe.
---
Homme II is a polished and sophisticated collection of citruses induced woody notes with sweet a sweet warmth. This attractive combo is charm and uniqueness embodied in a fragrance. Freshly green with warm spiced undertones make up masculine delight.
---
Jimmy Choo Man Intense is a fantastically sensual scent personified by power and an adventurous romantic spirit. Lavendar, davana and cistus absolute create a smooth, well balanced alluring fragrance for any modern man.
Accords: Fresh Spicy, Aromatic, Amber
---
Pasha De Cartier Noire Sport is the new revitalized and exhilarating version of the original. The amped up and energized fougère accord melded with deep woody cedar notes are freshened up by a citrusy marine and fruity ripeness.
---
Vetiver Geranium is a brightly refreshing woody fragrance with crisp green apples blended with flavorful lemon. The suggestive patchouli, Cedarwood, and musk immerse us in a wonderfully full bodied opulent clean scent.
Collection 2019
Sale 70% Off
Title for image